Through videos, audio, photographs and essays, you can experience EXPOSÉ an exhibition of exhibitions, for which 8 contemporary Jewellers have been invited to present their curatorial vision. This project was conceived by Benjamin Lignel.
for more information on this project: exposetheexhibition.com/project/
One of these visions is STIMULI curated by Lilian Mattuschka for which Lena Grabher's work was selected.
"If the visitor has to imagine the artwork is it still a jewellery exhibition?
We experience the world through the five senses, which send signals to the brain. With this information, the brain triggers emotions that ultimately shape our perception. When one of those senses is cut out, the brain automatically relies on the remaining senses to interpret its surroundings.
How do we perceive jewellery if we are not able to see it? What if we could only hear it? What kind of associations would the brain make and how does the imagination work with these stimulations?
Artworks happen in our imagination, in our brain. We become part of a creative process.
With this exhibition I want to stretch our ways of perceiving jewellery. Instead of the usual visual experience, visitors will have the possibility of experimenting an auditory description.
I want to underscore the importance that the other senses can have in the process of understanding and recognition."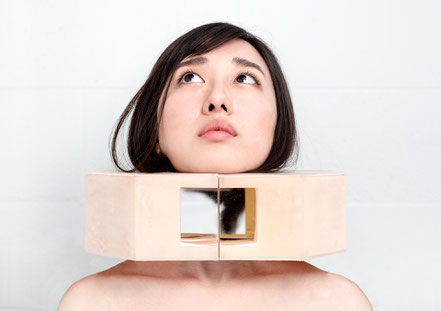 Exposé runs from Jun 24th to Sept 17th, 2017
Address: Place du Château, Haut-de-Cagnes
June - September: open Wednesday to Sunday 2-6 PM
July -August: open Tuesday to Sunday 2-6 PM
Free entrance
DIPLOPIA 3
What is behind a worn piece of jewellery? - A synergy between the wearer and its surroundings. How do I want to portray my identity? Inspired by Jacques Lacan's "mirror stage" and the resulting idea that our mirror image completes our identity, what we see in in the mirror structure is what is behind the wearer.
---