Pairs of Eight
Beschäftigung mit dem Urwunsch der Verdoppelung und Ergänzung
Verniss
age am 3. November 2015, 17 - 24 Uhr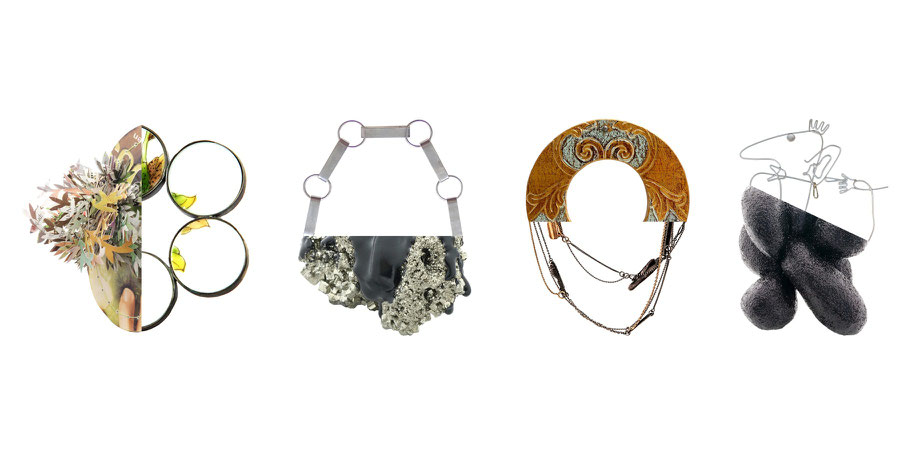 Für diese neue Ausstellung im Atelier STOSSIMHIMMEL öffnen wir unsere Räumlichkeiten in der Vorweihnachtszeit für die Welt der Dualität, erforschen das Wesen des Sichverbindens und Sichabgrenzens, des Ähnlichen und Fremden. Auf künstlerische Art und Weise wird der Aspekt der Paarbildung aus allen möglichen Perspektiven beleuchtet.
Im Rahmen der Ausstellung PAIRS OF EIGHT  bilden die acht völlig unterschiedlichen Künstlerinnen erstmals auch untereinander Paare, um gemeinsam Schmuckstücke zu kreieren. Schmuck ist nicht nur ein Zeichen der Partnerschaften zwischen zwei Menschen, auch die unterschiedlichen Schmuckstücke selbst bzw. die dafür verarbeiteten Materialien gehen Paarbeziehungen ein.
Alter Schmuck, neues Schmuckstück!
Im Rahmen der Ausstellung PAIRS OF EIGHT lädt das Atelier STOSSIMHIMMEL am 28. November, von 11 bis 19 Uhr dazu ein, alte Schmuckstücke zu bringen, um daraus neue, völlig andere Stücke zu machen. Am Beispiel der Ausstellung, wo je zwei Künstlerinnen an einem Stück in ihrem Stil gearbeitet haben, findet diese Idee ihren Fortlauf zu zweit – paarweise also. Dazu bringen die Interessenten ihren alten Schmuck und lassen sich von den Künstlerinnen zu einem individuellen Stück inspirieren. Die Umsetzung erfolgt in der Zeit von Dezember 2015 bis Jänner 2016.
Atelier STOSSIMHIMMEL is opening it's premises for the world of dualities and pairs, explore the essence of coalescence and dissociation, similarities and differences. In an artistic manner we will explore the different aspects of pairing from different perspectives. As part of the  exhibition PAIRS OF EIGHT the 8 very different artists paired up amongst themselves, for the first time, in order to create jewellery pieces together.
Not only is jewellery a sign of partnership between two people, but also the pieces themselves, as well as the materials used will form relationships.
Old Jewellery, New Piece!
As part of the exhibition PAIRS OF EIGHT, Atelier STOSSIMHIMMEL invites you to come by and bring us your old jewellery, on November 28th, 11 am - 7 pm, to transform it into a new and completely different piece. Inspired by the exhibition above, where two artists work together on one piece, each with their own style, the concept of working in pairs will continue, but this time creating a symbiosis between the client and the artist. Those of you interested should bring their old jewellery and work together with one of the artists to create an individual piece of jewellery. The pieces will be made between December 2015 and January 2016.
---